Jennifer Linforth
Website
|
Official Trailer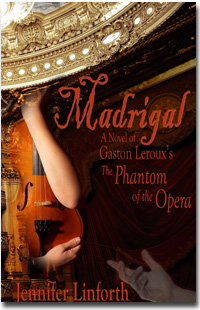 Gaston Leroux's classic novel is revisited in a new work of historical fiction:
MADRIGAL: A novel of Gaston Leroux's The Phantom of the Opera by Jennifer Linforth released by Highland Press Publishing:
Years earlier Erik faked his death and vowed the Phantom would never again haunt the Opera Garnier. But strange packages left by Anna, an unwanted Samaritan turned unlikely friend, cause him to desire the unattainable-love. Battling the nobleman determined to lock him away, Erik must control his demons and tame a heart unexpectedly beating for two opposite women: Christine, who he longs to love, and Anna the woman who saw beyond his bitter soul to the man beneath the mask. In the midst of a brutal manhunt, can he be loved for himself or is he condemned to be The Phantom of the Opera? Murderer, Maestro, Magician, Mastermind.
Set in Paris after the events of Leroux's original novel, MADRIGAL explores a new story where the old left off.